Ushya
Mirasol Yarns - Ushya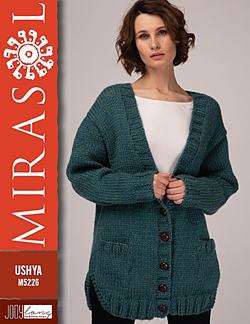 Ushya is not plied. It is of a chained construction. This creates a light and airy feel. If super bulky cowls and hats appeal to you, then you will love this yarn. Wonderful for vests, and if you like bulky cozy pullovers this yarn would be scrumptious.
Check out all the patterns on Ravelry using Ushya Yarn.
Image shown is M5226 Alma Cardigan.
YARN DETAILS
98%

Merino Wool,

2%

Polyamide
Weight: 100 g / 3.5 oz
Approx:

114 yds

Knitting Needle Size: US 15 / 10

mm

Knitting Gauge:

2-2.5

sts. = 1" /

Super Bulky weight

Hand Wash. Dry Flat.