Posted by Angelika's Yarn Store on Feb 28, 2019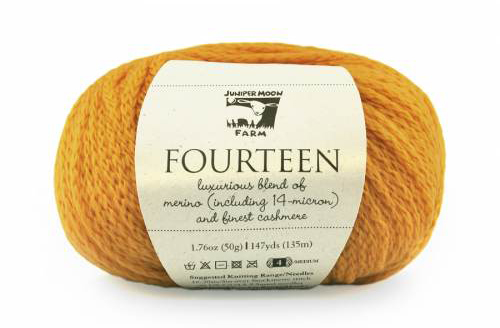 Juniper Moon Fourteen Yarn
Fourteen is a "oh spoil me, please" yarn because despite it being a worsted weight yarn, it is light as air. Knit or crocheted loosely it is super amazing. And be very careful not to leave this in a restaurant or other public place because who ever may pick it up, will never return it! It's that scrumptious!
This light as air yarn is 90% Merino and 10% Cashmere. Knit and crochets up quickly! Allergic to wool? Think it is itchy? You won't believe this is wool. Fourteen was named "Fourteen" due to the micron count. From Very Course, Course, Medium and Fine, Fourteen falls into the Extra Fine category. Do something special for yourself. Grab a few balls and spoil yourself! The loftiness of the ply makes this super warm. Of course, perfect for cowls and hats, but also an ideal homecoming gift for new born babies. Imagine a photographing the newest member of the family in a knit or crochet cacoon.
YARN DETAILS
90% Merino Wool, 10% Cashmere
Weight: 50 g / 1.75 oz
Approx: 147 yds
Size: [4] Worsted
Knitting Needle Size: US 7 - 9 / 450 - 5.5 mm
Knitting Gauge: 5 - 4 sts = 1"
Crochet Hook Size: I - J / 5.5 - 6 mm
Crochet Gauge: 16 sc = 4"
Care: Hand Wash
Put-Up: Ball
Ply: Chainette I-Cord
PATTERNS
Left: Blue Mountain Cowl by the good people at The Unwind Yarn House in Ontario, Canada.
Right: This sample was brought in by my yarn rep and is the reason why I fell for this yarn. This is a crochet scarf, Monochrome Plaid Scarf, by Juniper Moon Farm.