Posted by Jennifer on May 14, 2019
You've heard "Out with the old, in with the new."
Well, here at the Yarn Store, it's the opposite – IN WITH THE NEW FIRST, then out with the old!
I think I know how a used car salesperson feels. There are days, being The Shipping and Receiving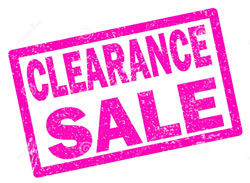 Department, I sign for boxes as big as bales of cotton! And Angelika will say "Oh, yes. I meant to tell you I ordered some new lines of yarns recently." And my immediate thought is "Great but where are we going to PUT it??!!"

Welcome to my day! And I would not change one iota of any of them. Every day is unique but similar, too. I worked in offices for 33 years and have to say that I have never worked – correction, PLAYED
– as hard as I do here! This life-long (49-years) crocheter is in Employee's Heaven.
Thus and so, as Angelika recently mentioned in her last newsletter, the newly-created " Clearance" department on the web-site, I'm flagging the yarns that are literally in the Clearance Section of our store. You can imagine, when you are perusing the ' Clearance' items, that you are standing in front of the cubes and displays, near the southern window, that are full of great yarns, that simply fell out of favor.
I recently detailed the Cascade Yarns 220 Peruvian Wool colors and now you can have the option of seeing them in the exact color number order that they are displayed here in the store! I realize you can't touch them, compare skeins against each other, etc, but know that I enjoy every day, every order that I am privileged to pull and package, imagining what you are going to make with the skein(s). Color combinations you choose are fascinating to me. It's my way of being a part of your works.
Thank you, for allowing me to help you, serve your desires, and for participating in my dream come true: working in jeans, three miles from home, and being surrounded by gorgeous YARN!!!
Yours, Jennifer