Frolicking Feet Yarn
Done Roving Yarns - Frolicking Feet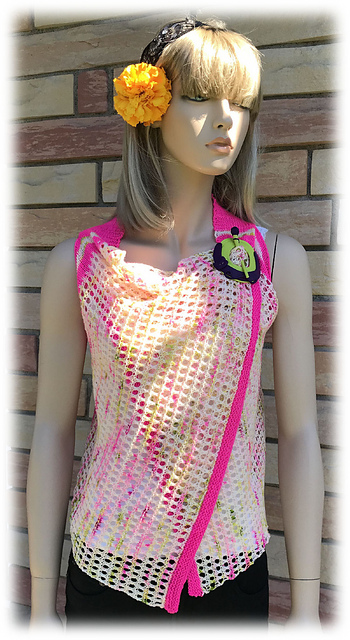 Done Roving Frolicking Feet Yarn is not just for knitted socks! Frolicking Feet makes the most amazing crochet and knitted shawls. Vivid and inspiring colorways from wool born, raised, spun, and dyed on a farm on the most eastern tip of the USA. Frolicking Feet is 100% Superwash Merino Wool, that is perfect for socks, but is increasingly more popular for shawls, scarves and wraps. Knit loosely in garter stitch on a US#6 needle makes a really bouncy and scrunchy scarf that everyone will love. We've done it up in the Hitchiker (on Ravelry).
Combine Frolicking Feet with Frolicking Feet Splash & Splatter. Splash & Splatter is the best speckle yarn for mixing with solids, nearly solids and multis. Splash & Splatter is color coordinated to Done Rovings line of Frolicking Feet.
Image shown is Miss Molly, a drapey vest for young girls and teens, by Alli Barrett. Alli used Candy Hearts Splash & Splatter and Hot Pink. Need more ideas? Just call or email us. We love creating pairings with this yarn.
YARN DETAILS
100% Superwash Wool

Weight: 4 oz

Approx: 480 yds

Size: [1] Fingering

Knitting Needle Size: US 1-8 (depending on if you are doing socks or shawls)

Knitting Gauge: 8 to 4 sts = 1"

Care: Machine Wash Gentle

Will need to be wound into a ball before use

Knitting Machine: Silver Reed SK280 or Silver Reed SK840

Due to the nature of how different monitors will show colors, and because painted dyed yarns will vary quite a bit, our hanks showing here may not be identical to the actual yarn. We try our best. If color is critical, give us a call!

Put-up: Hank